Yeshivat Sha'alvim is a high-level hesder yeshiva that is known for its dynamic and high-level learning program, unique educational philosophy, and accomplished graduates. Sha'alvim recognizes that Torah study and observance are integral components of Jewish life at every stage and in every calling. Yeshivat Sha'alvim prepares its students for a life committed to Torah and the Jewish people.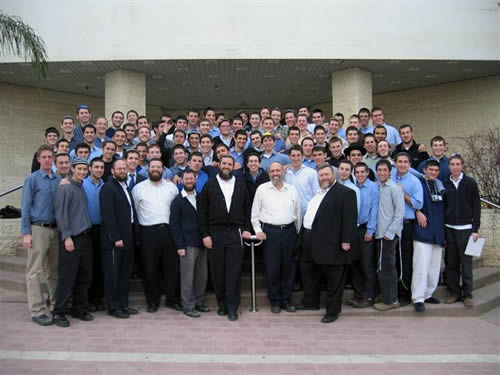 Sha'alvim is nestled in the natural beauty of central Israel, along the fertile fields of the Ayalon Valley, halfway between Jerusalem and Tel Aviv. Surrounded by nature and removed from the distractions of a busy city, the Sha'alvim student can blossom and grow to reach his fullest potential as a ben Torah.
Yeshivat Sha'alvim was established in 1961 as a military outpost yeshiva. With the liberation of Jerusalem, Judea, and Samaria in 1967 Sha'alvim became a hesder yeshiva, where Israeli students combine intensive Torah study with active service in the Israeli Defense Forces.
For over twenty five years the Moty Hornstein Institute for Overseas Students has provided young men from the United States, Canada, Brazil, France, England, Belgium, Switzerland, and Australia the opportunity to learn side-by-side with Israeli hesder students. Together, they develop study habits, learning skills, and middot to shape their characters and guide them throughout their lives.