Alumni Profile - Aron Meir Zuckerman ('98-'00)
Aron Meir lives with his wife Rachel and their three children Tzvi Hirsch, Tova Gittel and Shifra Chana, ages 4, 2 and 9 months, in Boston, MA where he is a third year student at Harvard Law School, while learning at the Boston Kollel in the morning.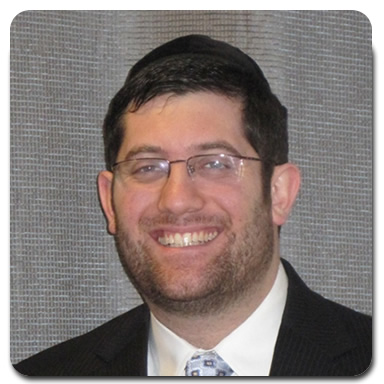 Aron Meir grew up in Silver Spring, MD, attending the Hebrew Academy of Greater Washington.  He was followed at Shaalvim by two of his brothers, Eliezer ('03-'04) and Dani ('06 -'08), and one brother-in-law, Asher Millman ('09).  After his years in Shaalvim, Aron Meir earned a BA from Yeshiva University, semicha from RIETS, learned in Yeshivas Mir Yerushalayim, in the kollel at Yeshiva Derech HaTalmud and at two community kollelim in Los Angeles.  He also spent one year learning with students at YULA Boys High School and gave chaburot.  His students included future Shaalvim alumni, Jared Rechnitz ('08-'09) and Josh Golceh ('09).
What was your favorite thing in your years at Shaalvim?
The chevra.  My years in Shaalvim were some of the greatest years of my life.  Without a strong chevra interested in growing together in our avodat Hashem, I would not have been able to maximize my Shaalvim experience in the years that followed.  We learned as chavrutot, went on tiyulim, attended tishim, spent late nights schmoozing about important (and not so important) issues, played basketball and many other activities.  Ultimately the entire experience molded us and influenced us into a group interested in growing closer to the Ribbono Shel Olam.  Only the strong chevra I gained in Shaalvim allowed me to maintain and facilitate further spiritual growth in all the years that followed.  Today my Shaalvim chevra is spread around the globe, in Eretz Yisrael, New York, California, Florida, Massachusetts and other places, but I still count on my friends to help me continue to grow.
What Shaalvim experience was most meaningful to your growth?
Shiur klali.  I know most people reading will laugh at that, and I usually did not prepare or understand the shiur itself.  However, typical of a law student, I have always enjoyed intensive discussions about politics, sports and l'havdil about important hashkafic issues.  However, observing the milchamtah shel Torah between the Rosh Yeshiva, Rav Avidan, Rav Yaakovson, Rav Ganz and Rav Dudi Bagnow each week was a wholly different experience.  The fact that they cared so much, argued so vehemently and sometimes insulted each other about the real pshat in the Rashba, Yerushalmi or Ketzos demonstrated to me "ki heim chayeinu v'orech yameinu".  Watching the ramim argue, I learned that Talmud Torah lishma is about a continuous quest for emes that takes years of dedication and commitment, until pshat in Tosfos is worth arguing about.