At Sha'alvim for Women…
… our students are empowered to become independent Torah learners and Torah thinkers and are prepared for a life dedicated to Torah, Am Yisrael, Eretz Yisrael and Medinat Yisrael. In a caring and warm environment infused with ruach and excitement, students develop the study habits, learning skills, and middot to shape their characters and guide them throughout their lives.
…. our students continue and expand their love for learning Torah that they acquired and developed at home, school and community. At SFW it begins with intensive and interactive study of Torah texts and is enhanced by the encounter with the personalities who populate those texts. It is solidified by the extraordinary role models presented by our faculty.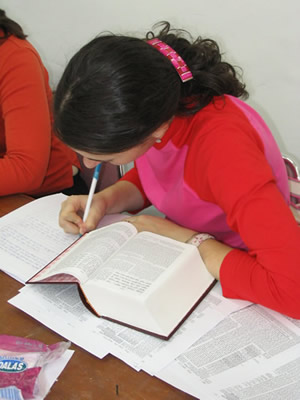 …. we provide a warm, caring atmosphere as we engage your mind, your heart and your soul. The kindness and sincerity of each member of our exceptional staff along with the individual attention provided to each student creates the ultimate environment for success in personal growth and in Torah study. Each year, we develop a close-knit student body, imbued with friendship and camaraderie.
… we foster the development of Middot. Learning Torah is far more than just the accumulation of knowledge. By providing our students with an environment of kindness, sincerity and individualized attention, we help them grow in yirat shamayim, ahavat HaShem, derech eretz and avodah shebalev (tefilah).
… we teach Torah learning skills that you will take with you beyond your "year in Israel ." Through rigorous, advanced Torah study in shiurim and in the beit midrash with your chavruta, you will experience Torah as never before.
… we encourage you to develop a deep appreciation for and a sense of obligation to your family, your school, and your community. It is our prayer and expectation that you will take your newly developed skills and experiences and build upon them in the future as life-long Torah learners and leaders in your communities.
… we expand your love for Am Yisra'el, Eretz Yisra'el and Medinat Yisra'el. Our unique, integrated program of shiurim and siyurim, together with our extended tiyulim and meaningful, outstanding programs on Yom HaAtzmaut, Yom Yerushalayim, and throughout the year allow you to expand your love for the Land, the People, and the State of Israel. You will experience the miracle of modern Israel, as well as the promise of its future.